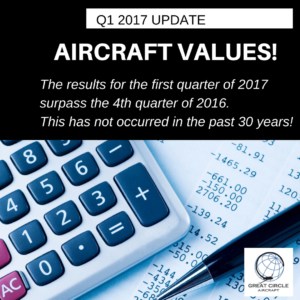 The results for the first quarter of 2017 surpass the 4th quarter of 2016.
Typically, the fourth quarter is the best quarter of the year!
A better fourth quarter than first quarter has not occurred in the  business jet resale market in the past 30 years. 147 Aircraft were sold in the first quarter of 2017!
There were a couple of surprises in the data for the first quarter of 2017. Big airplanes did so well, but there were surprises in the smaller airplanes. For example, the earlier versions (1981 through 1985) of the King Air B 200 are going up in value! These are 30 year old airplanes!
Of course, any time we look at an airplane that's five years old or less, the price is going down, because the warranties are expiring and the "new smell" is going away.
We all get that, but if we start the analysis with an eight-year-old airplane and continue through a 30-year-old airplane, it's an inverted bell shaped curve as to how the deprecation schedule works.
So what's happening is this – when they hit 30 years old, they're starting to go back up in value again. And it's not because they're getting any better, it's because the new ones are getting much more expensive.
So somebody that is looking at a King Air B 200 is going to either spend $800,000 for a 30-year-old airplane, or a $4.5 million for a new one.
The benefit of the new King Air is that it's going to go about 20 knots faster.
Well, for $4 million I can slow down a little.
Some of the older Citations are starting to go up in value as well, which surprises me.
PC 12s, on the other hand, which have always been regarded as "the king of we retain our value forever and ever," are not doing so well. They're not retaining their value like they used to. They're not doing as badly as the new (less than 5 year old) vintages of the King Airs, but they're not holding their value like they used to do.
It's definitely size related. The mid-size jets are a smorgasbord. Hawkers are doing what Hawkers do, they fall fast.
The data covered in the chart below are for the business jet resale market for Lear 60 through the BBJ.
Add the aircraft that I am no longer including the Hawker 800A and Falcon 50 (they have been out of production more than 20 year) for 13 more units, to equal the 2016 metrics.
AIRCRAFT MARKET EVENTS
2017  1st Qtr Results
LEAR 60 through BBJ
Totals:
134
85
227
844
Sold
Removed
Added
For Sale
Airbus
Sold
Removed
Added
For Sale
A319CJ
2
1
2
5
A318 Elite
0
0
0
4
A310
0
0
0
0
A320
0
1
0
1
Beechcraft/Hawker
Sold
Removed
Added
For Sale
750
3
0
2
8
800XP
7
4
9
61
850XP
0
1
6
16
900XP
3
5
10
26
4000
0
3
0
7
Boeing
Sold
Removed
Added
For Sale
BBJ
2
0
2
16
BBJ 2
0
0
0
2
BBJ 3
0
0
0
0
Bombardier
Sold
Removed
Added
For Sale
300
9
2
10
35
350
2
0
0
3
604
6
4
20
40
605
6
0
8
24
Global 5000
2
3
6
21
Global 6000
0
3
2
10
Express
2
0
2
15
XRS
8
1
1
16
Bombardier/Lear
Sold
Removed
Added
For Sale
60
11
5
14
50
60XR
1
0
5
17
Cessna Citation
Sold
Removed
Added
For Sale
Lattitude
0
0
2
3
Sovereign
3
5
9
28
Sovereign +
0
2
0
5
X
3
1
13
37
X+
0
2
1
1
Dassault Falcon
Sold
Removed
Added
For Sale
2000
6
4
8
25
2000EX
0
0
0
2
2000EX EASy
1
0
0
10
2000LX
3
0
6
22
2000S
0
0
1
1
50EX
6
2
0
16
7X
2
3
12
35
8X
0
0
6
1
900B
0
0
3
19
900C
2
2
2
4
900EX
2
0
0
1
900EX EASy
0
0
2
11
900DX
4
1
2
11
900LX
0
3
0
9
Embraer / Legacy
Sold
Removed
Added
For Sale
500
1
0
2
6
600
3
0
8
34
650
3
4
1
9
1000
0
0
0
4
Gulfstream
Sold
Removed
Added
For Sale
150
3
2
3
8
200
8
4
5
28
280
0
0
2
5
300
0
0
0
2
350
0
0
0
0
400
0
0
4
4
450
8
0
12
27
550
7
6
5
35
650
4
1
6
17
IVSP
1
10
11
38
V
0
0
2
9
Totals:
134
85
227
844
Sold
Removed
Added
For Sale