The information below: (Lear 60 through BBJ)
(those aircraft having been in production sometime during the past 20 years)
The 3 month analysis is trending toward increasing inventory.  July provided an interesting anomaly, TEXTRON removed 11 Hawker 800 series and 5 Citation X aircraft.   All aircraft removed were traded to Textron by Fractional Aircraft Providers.   These aircraft will return – it is just a matter of when.
The metric? (Aircraft Added)-(Aircraft Sold + Aircraft Removed) (The chart I do not provide: "Aircraft Removed")
Sales for the month of July.  
July 2019  42 sold
July  2018  42 sold
July 2017  37 sold
Focus on the past 3 months when reviewing the charts below.  The change from the previous 3 months is notable.
The 6 month analysis is trending towards higher average number of sales per month!
July 2019, 43 SOLD.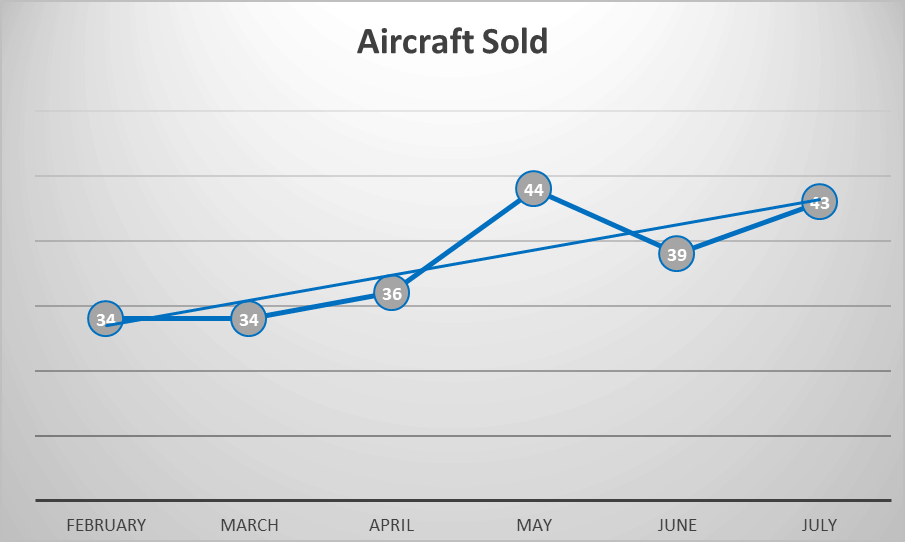 Aircraft For Sale.
691 
Anomaly?   TEXTRON removed 16 Aircraft from the Market.
707 without this event.  Charts without this event are Below   (These airplanes will return)  (the vertical axis value has been edited to match direction of the market)
Is the market stabilizing?
NO.
As written above.
JULY had an event at TEXTRON that will most likely self correct, soon.
Data without insight, often is useless.
Market Overview Data is Attached for your review.
For additional insight regarding the aircraft market or if you are interested in receiving specific aircraft data, contact me.
Gene Clow
425 822-7876