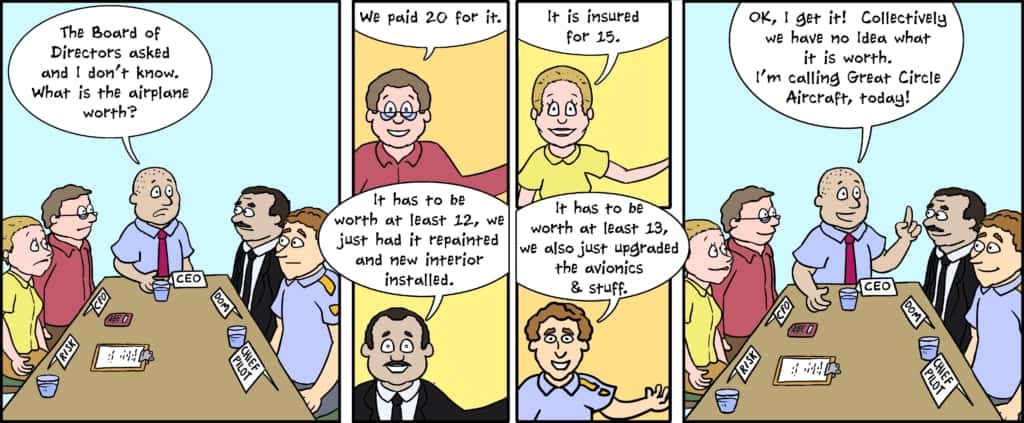 How much is my airplane worth?
Trying to figure out what your airplane is worth can be mysterious for those who aren't in the business of buying and selling
aircraft
on a daily basis
.  The stock market, the current price of fuel, and many other factors can come into play.

Here's what goes into a pricing evaluation:
We

evaluate

the

aircraft

and logbooks.
We collect market data for

aircraft

sold in the last 12 months.
We talk with the brokers involved in those sales to find out the details.
We factor in type, age, and condition.
We find out how

quickly

you need to sell the plane.
Which Factors Affect How Much Airplane is Worth?
Some of these factors might include:
Specific manufacture date

Amount of time a plane model has spent on the market

Number and nature of previous owners

Type of usage (FAA Part 91 or Part 135 have different operational rules)

Where the plane is currently located

Where the plane has been flown

Where the galley

is located

and serviced.

Where the lavatory

is located

, and if it can

be serviced

externally

without running hoses down the aisle of the plane

.

Condition of external paint

Type and condition of the entertainment system

Avionics features like a "heads up" display or synthetic vision

Condition and type of Auxiliary Power Unit (APU)
You're the Boss.
It's your airplane, and
ultimately
the price you're willing to sell it for is up to you. But our advice will help you sell it faster.
The Advantage of Experience
Unlike real estate brokers,
aircraft
brokers are not required to
be licensed by
any state.
Inexperienced brokers are often unaware of "surprises" that can crop up during an
aircraft
transaction
. We've been through the inspection, pricing, negotiation and delivery process many, many times. We're able to
anticipate
and prevent many problems.
Give us a call and let's talk about what your plane is worth, and what your options are, today!